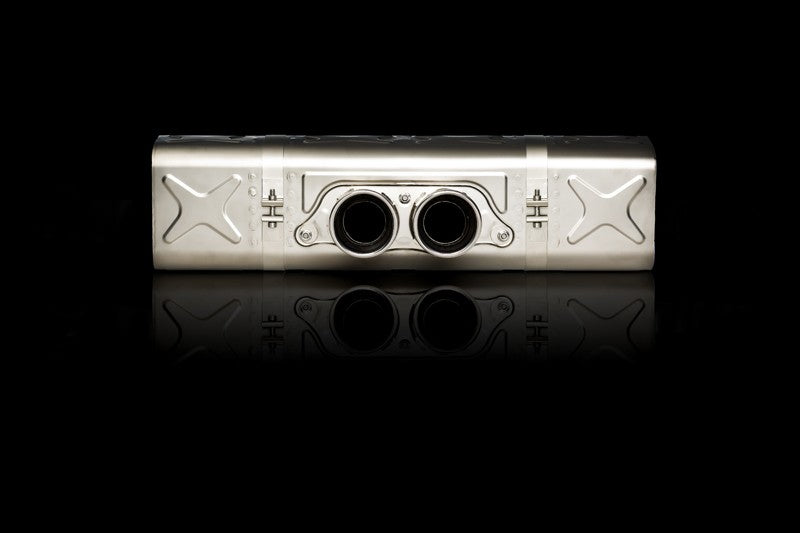 Akrapovic Slip on exhaust system // Porsche 997 GT3 / GT3 RS (3.6L)
The Akrapovič aftermarket Slip-On system is based on the same layout as the original exhaust system of the GT3 with valve control. In comparison to the aftermarket Akrapovič Evolution exhaust system, the Slip-On does not contain an exhaust manifold with a 100 cpsi sports catalyst, but rather only a titanium muffler with two double round tail pipes. The muffler is easily installed on the original exhaust system. Another advantage is that it is homologated for road use.
Performance:
A Porsche 911 GT3/RS (997) that is equipped with an Akrapovič Slip-On exhaust system is more powerful and lighter, even though the exhaust system is not replaced in its entirety. The sound of its six valve engine is also noticeably improved. A look at the numbers reveals that the Slip-On offers a 2 kg weight reduction in the rear of the Porsche 911 GT3/RS of and a 4 HP and 3 Nm increase in power. The reduced weight provides better steerability and the increased power additionally spices up sports driving, because the changes offer better lap times. Two tail pipes, measuring a 100 millimeters in diameter, make it clear that the Akrapovič Slip-On system is no ordinary exhaust.
The package contains:
- titanium end muffler
- titanium tailpipes,
- fitting material
Worldwide shipping, shipping price is automatically calculated in the check-out