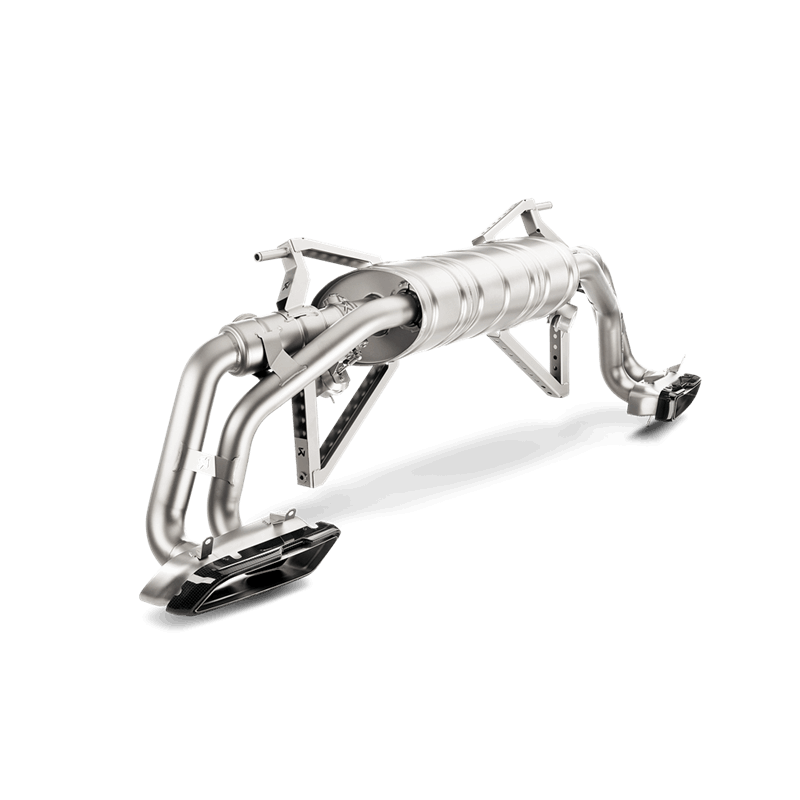 Akrapovic Slip-On exhaust system Audi R8 V10 Plus
Add Akrapovič Sound Kit P-HF946:
Add Akrapovič Sound Kit P-HF946
The
Akrapovic
exhaust
for the
Audi R8 V10 plus
is constructed from an ultra-lightweight high-grade titanium alloy, boosting the R8's power-to-weight ratio and handling characteristics. The Titanium slip-On Line has been precision engineered to improve throttle response and increase both the power and torque outputs.
The Akrapovic performance exhaust system is designed to reduce back-pressure to almost half of the stock levels through a combination of specialized muffler shapes, secondary resonators, and titanium dual-mode exhaust valves. It is finished with two exquisitely hand-crafted carbon-fibre and titanium tailpipes that fit perfectly into the Audi R8 stock diffusor. It is tuned to enhance the sporty note from the V10 engine while still ensuring maximum comfort and enjoyment in the car's cockpit. The tone moves from a pleasant growl at low revs to the unique Akrapovič race-like sound as the revs rise and the excitement grows. The sound can be further adjusted with the addition of the optional Akrapovič Sound Kit.
Worldwide shipping, shipping price is automatically calculated in the check-out