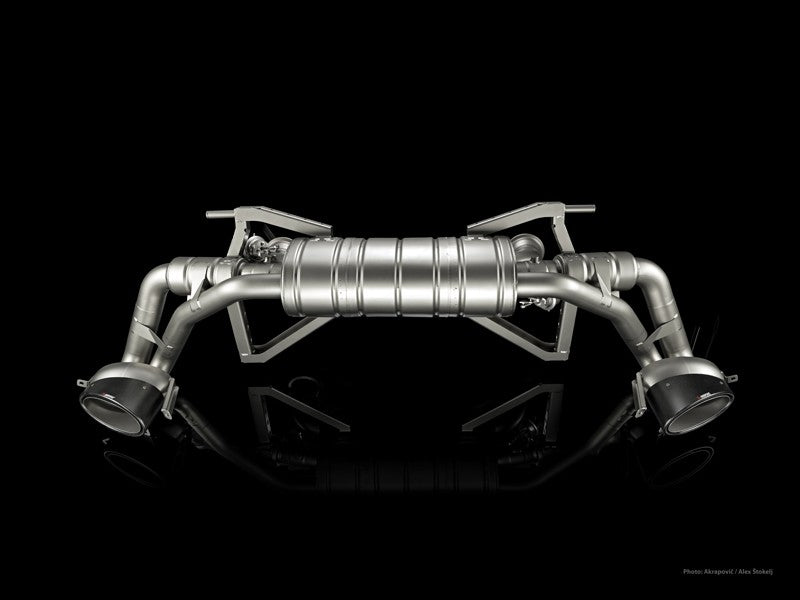 Akrapovic Slip-On exhaust system // Audi R8 V10 5.2 FSI
What could make a 5.2 liter V10-powered all-wheel drive mid-engine 500+ horsepower supercar even better? The answer: lower weight, more power, and an unbelievable change in engine sound. Akrapovič is proud to bring all of these things and more to an amazing road car.
Constructed from our unique titanium* alloy, our precision-engineered system provides several performance advantages over the stock exhaust. To start with, the engine placement of this car means that the exhaust system must be located at the very rear of the vehicle. Weight reductions in this area have a substantial benefit on handling. The Akrapovič Slip-On system for the R8 V10 decreases weight in this critical area by a staggering 16 kg/35 pounds.
Increasing exhaust flow was another key design goal. By developing a specialized muffler shape and computer-designed inlets/outlets, we've extracted an additional 14 horsepower and 15 Nm/11 lbs-ft. of torque from an already powerful engine. Moreover, the decreased backpressure of the system is a perfect platform for further tuning the car. One aspect of the supercar experience that can't be overlooked is the sound. To complement our muffler design, we've added both secondary resonators and our well-known cast-titanium "bi-mode" exhaust valves. Both the housings and butterfly valves for the bi-mode system are crafted from a proprietary titanium mix and cast in our in-house foundry. All of this adds up to an incredible symphony emanating from the large displacement V10.
The bi-mode system gives the exhaust a dual personality. At lower engine speeds and during cruise operation, the valves are closed. This offers a deeper, sharper exhaust note, but subdued enough for daily use without any concerns about drone. At wide-open throttle, the valves open to release the full fury of the engine. By adding the optional Wireless Kit, which includes an active in-car control unit, the driver can override the valves and open them fully at any time. This gives you racecar-level sound from idle to redline.
Capping all of this off is a beautiful set of dry carbon fiber exhaust outlets featuring titanium inner sleeves. All of our carbon fiber is designed and produced in-house. The components are vacuum-bagged and autoclaved to create a part that's not only striking but also incredibly durable.
Hard facts:
Plus 14 HP (at 5,890 rpm)
Plus 15 Nm/11 lbs-ft of torque (at 5,000 rpm)
16 kg/35 lbs. lighter than stock
The package contains:
- titanium mufflers,
- titanium or carbon tailpipes,
- fitting material
Worldwide shipping, shipping price is automatically calculated in the check-out