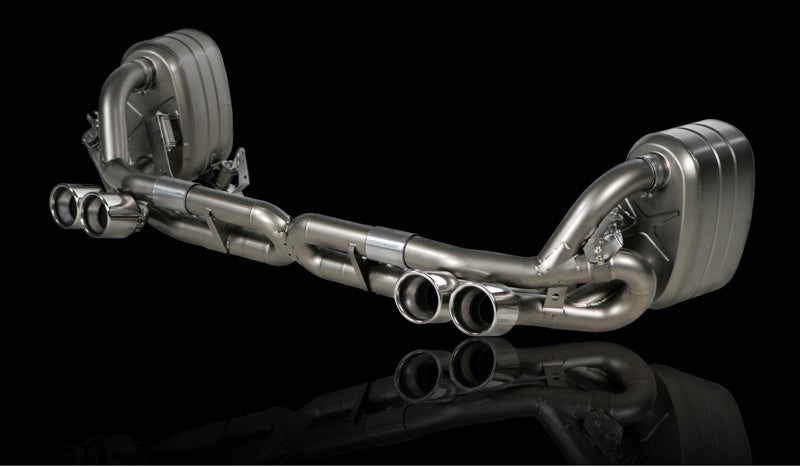 Akrapovic Slip-On Race system // Porsche 997.2 S / 4S (DFI)
In its thoroughly refurbished edition, the Porsche 911 family, which offers the greatest versatility of models, now hosts further improved direct injection engines under the hood that can be combined with a coupe or a cabriolet body shell, the Targa edition or with a four-wheel or a rear-wheel drive. Our engineers prepared an aftermarket Slip-On Race exhaust system for the refurbished 911 series, which provides 911 models with even greater power and unburdens the rear with regard to weight, thus offering better steerability. Additionally, the Akrapovič exhaust system boasts a special optional wireless kit for exhaust valves control, which offers a choice between a more sporty and loud and regular performance, suitable for everyday driving.
Performance
The Porsche 911 Carrera (997.2), with direct fuel injection engine, is also tangibly better with regard to efficiency. A Porsche with the Akrapovič Slip-On Race exhaust system is noticeably more powerful between 3.000 and 6.500 rpm. It is therefore that much more pleasurable pushing it to its limits and making it roar with the distinctive GT3 sound. Its position to asphalt is also improved, because the Akrapovič Slip-On Race system offers an almost 10 kilogram* weight reduction in comparison to the stock system. This offers a better power to weight ratio when power is greatly increased. Our engineers were also able to extract additional power of 17 HP* and torque of 30 Nm*.
Optional: Wireless kit for exhaust valves
Worldwide shipping, shipping price is automatically calculated in the check-out