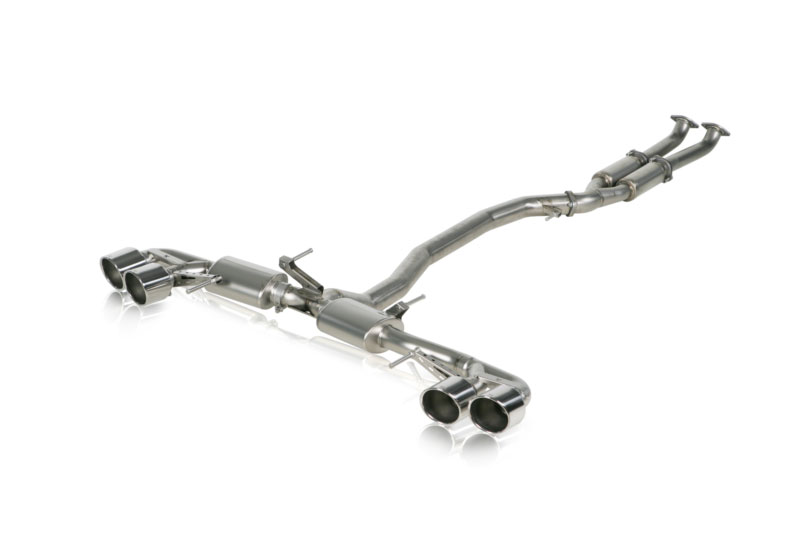 Akrapovic Evolution exhaust system // Nissan GT-R
The Nissan GT-R is one of the fastest cars to race on Germany's famous Nürburgring "Nordschleife" (Northern Loop). To enhance this already impressive performance, we offer our Akrapovič Evolution exhaust systems. These systems are made entirely of titanium. Not only does that increase the power output, but it also significantly reduces the weight. The attention to detail can be seen in every component. Even the exhaust tail pipes were designed to resemble the trademark GT-R tail lights.
Concealed behind these aggressive tail pipes is the hard work of the Akrapovič R&D team. Substantial work was required to achieve the 17 horsepower output and 56 Nm/41 lbs-ft of torque increase over stock. Gains were not only realized at redline but throughout the entire rpm range of the engine. Additionally, we were able to reduce the weight by over 17 kg/38 lbs. when compared with the stock system. The entire titanium Evolution system weighs in at only 14 kg/32 lbs. The power-to-weight ratio improves on both fronts: power increase and weight reduction.
The GT-R system was designed to have an aggressive, yet sporty sound. Droning, which can ruin the entire driving experience, was carefully tuned out.
Evolution system: titanium link pipes with integrated 100 cpsi catalysts titanium central muffler titanium tail pipes
Hard facts (100 cpsi cat version):
plus 17 HP (at 6260 rpm)
plus 56.1 Nm (at 2600 rpm)
minus 17,3 kg
The package contains:
- Titanium Muffler
- titanium linkpipe
- Titanium collector with resonators
- titanium or carbon tailpipes,
- fitting material
Worldwide shipping, shipping price is automatically calculated in the check-out