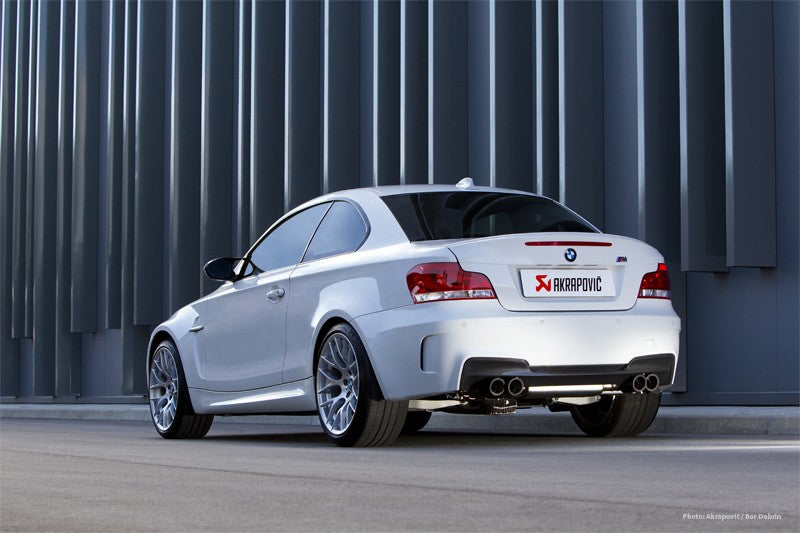 Akrapovic Evolution exhaust system // BMW 1M
Akrapovic Evolution exhaust system for the BMW 1M, the BMW 1 Series M Coupé is a throwback to the past. This twin turbo, 335+ horsepower coupe reminds many BMW diehards of the early M cars, in which light weight, small size, and agile handling were the only things that counted. Do we dare to improve on such a focused, purpose-built machine? Yes, we do.
The Akrapovic Evolution exhaust System, which is a catback exhaust, includes the Slip-On and then adds the titanium link pipes to it with resonators that run from the stock downpipe back. These link pipes feature larger-than-stock-diameter tubing and cast titanium flanges that are made at our in-house foundry for a perfect fit. In addition, the secondary catalysts are removed, further decreasing backpressure and weight while at the same time deepening the exhaust tone and increasing power output. No ECU reprogramming is required in this configuration. The check engine light will not be triggered. The Wireless Kit mentioned in the Slip-On description can also be used with the Evolution System.
To finish the system, akrapovic includes the carbon fiber exhaust tips. it feature a spherical mounting system to allow for perfect alignment of all four tips. The carbon fiber tips are constructed at the Akrapovic in-house production facility using "prepreg" cloth that is vacuum-bagged and autoclaved. The result is an attractive yet extremely durable part.
Hardfacts with optional down pipe
Plus 70 HP (at 6,350 rpm)
Plus 65 Nm / 48 lbs-ft of torque (at 4,660 rpm)
12 kg / 26 lbs. lighter than stock
Hard facts:
Plus 11 HP (at 5,850 rpm)
Plus 16 Nm / 12 lbs-ft of torque (at 3,090 rpm)
9 kg / 19 lbs. lighter than stock
The package contains ME-BM/T/3 and TP-CT/5
- titanium mufflers,
- titanium link pips with resonators
- carbon tailpipes
- fitting material
Worldwide shipping, shipping price is automatically calculated in the check-out