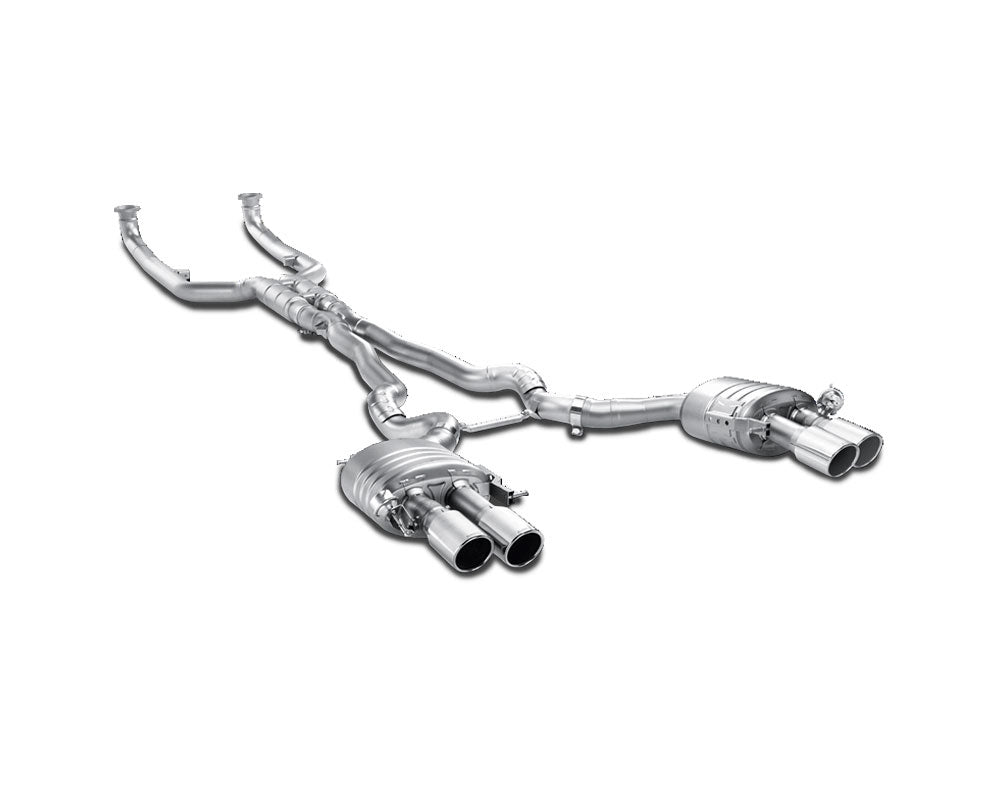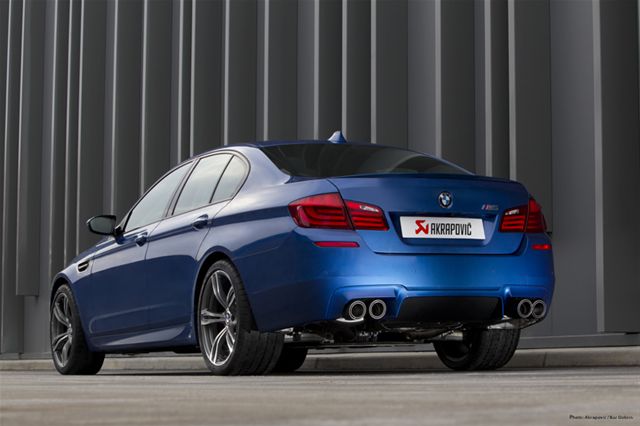 Akrapovic Evolution exhaust system | BMW M5 F10
The BMW M cars are some of the most impressive road cars ever created. The engineering masterpiece in the form of the new M TwinPower Turbo M5 has been a welcome challenge to the Akrapovič R&D department, which is responsible for developing truly amazing exhaust system that offer more power, weighs less, and have an EC type-approval stamp at the same time.
Compared to the previous generation, the BMW top sedan has lost two cylinders and has gained turbocharging. This doesn't mean the M5 has lost its pure driving excellence—just the opposite. Add a full titanium Akrapovič Evolution exhaust system and you'll never stop driving.
The new Evolution exhaust system consists of newly developed dual-outlet mufflers with exhaust valves, flow-optimized pipes, and a unique cast titanium X-shaped part with resonators. The X-pipe, valves, and flange assembly are produced in our foundry.
To top off this work of art, we've got polished titanium and aerospace-grade carbon fiber tail pipes to choose from.
The Evolution system lowers the back pressure and gives the M5 more power and torque through the whole range of rpms. It increases responsiveness. The Evolution system offers an even greater difference in weight, improving the power-to-weight ratio. Gains are achieved without removing the catalytic converters.
While developing this system, we especially focused on sound. An M5 with the Evolution system delivers a deep, aggressive roar when driven hard, coaxing bangs out of the unique tail pipes when shifting and going off the throttle. To top it all off, the Evolution system is drone free and works well with the M5's Active Noise Cancellation system—just like the valve system, which is regulated through the M5's settings.
Hard facts:
plus 10 HP (at 5.950 rpm)
plus 17 Nm (at 5.200 rpm)
minus 12.3kg
The package contains:
- titanium mufflers,
- titanium or carbon tailpipes,
- fitting material
Worldwide shipping, shipping price is automatically calculated in the check-out