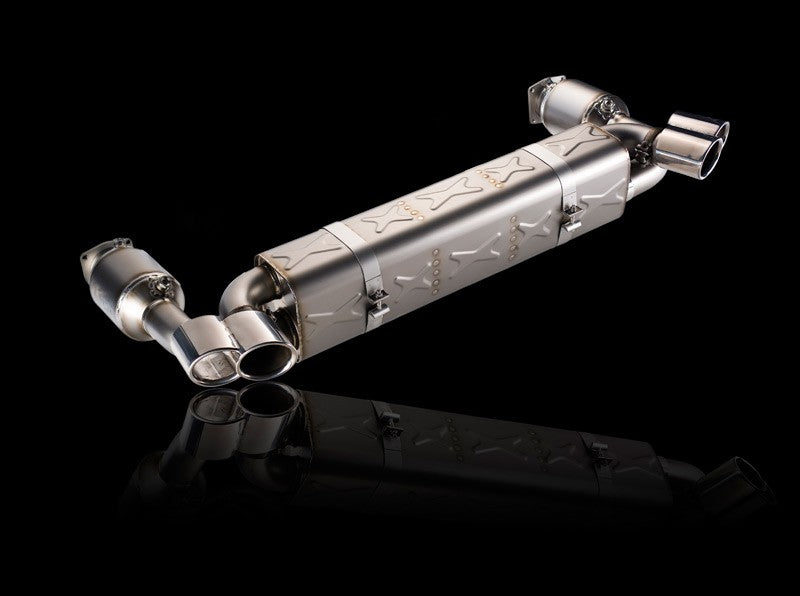 Akrapovic Slip-On exhaust system // Porsche 997 Turbo
In addition to providing Porsche AG with a titanium exhaust system for the GT2, we also developed the Evolution aftermarket exhaust system for the Turbo, which is made of titanium. We achieved an increase in power, torque and reduction of weight by 11 kg, because of new 400 or 100 cpsi (customer's choice) hi-flow metal catalysts and the capacity-optimized layout of the mufflers.
Performance
Two turbo chargers, two air intercoolers considerably increase the weight of the Porsche 997 Turbo engine in comparison to the atmospheric model. The lighter exhaust system unburdens the rear end and centralizes the weight in a more balanced manner. The limit range of the vehicle adjusts upwards and so a higher transverse acceleration is possible. The combination of improved power to weight ratio (through an increased efficiency of 21 HP), torque progression by 35 Nm, and the positive effects in connection with driving dynamics enhance the performance of the Turbo distinctively. Furthermore, we thought it important to improve the sound. The turbines of the Turbo strongly absorb the sound of the engine, but we were able could compensate for it. We were able to add the otherwise quiet Turbo a sonorous and aggressive sound impression without disadvantages in the daily use.
Worldwide shipping, shipping price is automatically calculated in the check-out