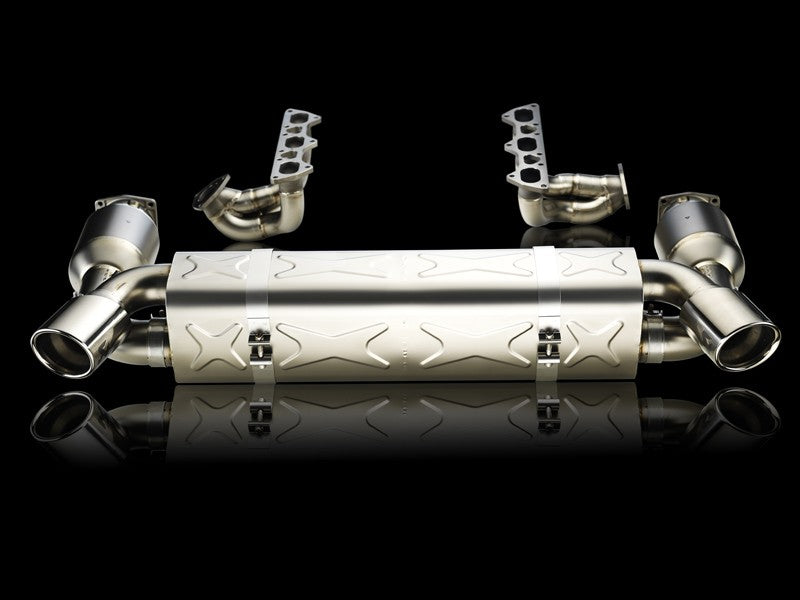 Akrapovic Evolution system // Porsche 997 GT2 / GT2 RS
The most sportive model offered by Porsche is the GT2. This car exhibits Porsche's advanced technology, which is demonstrated in its ceramic composite brakes, maximum engine power with twin turbines and variable turbine geometry, but mainly, in its uncompromising lightweight components. The 997 GT2 is the first Porsche and also the first serial car which is originally equipped with a titanium exhaust system.
Performance
Because of comfort, durability and strict noise requirements regarding the exhaust system, some kind of compromise had to be made. This was reason enough for us to develop a real aftermarket "sport-exhaust version" for this super sports car. Our requirements were very simple: lighter, more powerful and better sounding exhaust system. Two hiflow 100 cpsi metallic cats, larger tube diameters, measuring not 55, but 60 mm, reduced the power-consuming backpressure by more than 50 %. This resulted in a power increase of 41 HP, a torque increase of 74 Nm and weight savings of 5 kg, compared to the stock system.
Evolution system: titanium header set titanium link pipes with integrated 100 cpsi catalysts titanium central muffler titanium tail pipes
Hard facts (100 cpsi cat version):
plus 41 HP (at 4.080 rpm)*
plus 74 Nm (at 4.020 rpm)*
minus 5 kg*
The package contains:
- Titanium header set
- Titanium Muffler
- titanium linkpipes with 100 cpsi catalists
- titanium tailpipes,
- fitting material
Worldwide shipping, shipping price is automatically calculated in the check-out