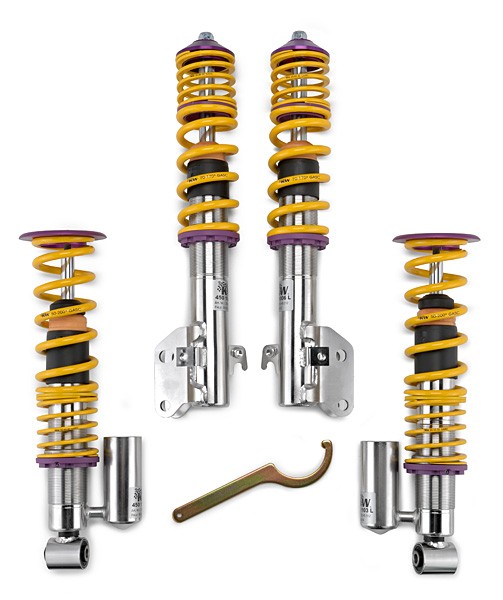 KW Suspension V3 INOX for BMW F80 M3 and BMW F82 M4
Electronic Damper Control(EDC):
Electronic Damper Control(EDC)
KW V3 INOX

Suspension

for BMW F80 M3 and BMW F82 M4

State of the art technology from KW Suspension motor sports for more performance on the road and track for your BMW M3/M4. The separate and independently adjustable rebound- and compression damping allows an individual suspension setup for different uses and preferences. The unique patented system with its two-stage valves allows a rebound damping adjustment (comfort) and a compression adjustment (driving dynamics) in the low-speed range while the high-speed range which controls the driving safety, is fixed.
The lowering of the KW V3 suspension will lower your BMW F80 M3 or BMW F82 M4 on the front 15-40 mm and on the rear 15-40 mm and is easily adjustable.

Rebound and compression damping adjustable damper technology
Stainless steel technology "inox-line"
Individual, continuous lowering
TÜV-tested adjustment range
High quality components for a long life
Complete documentation for an easy handling
Adjustable rebound damping with 16 exact clicks
Adjustable compression damping with 12 exact clicks
Unique, independent from each other working damping force adjustment
Interested in professional installation service, please feel free to contact us.
Worldwide shipping, shipping price is automatically calculated in the check-out