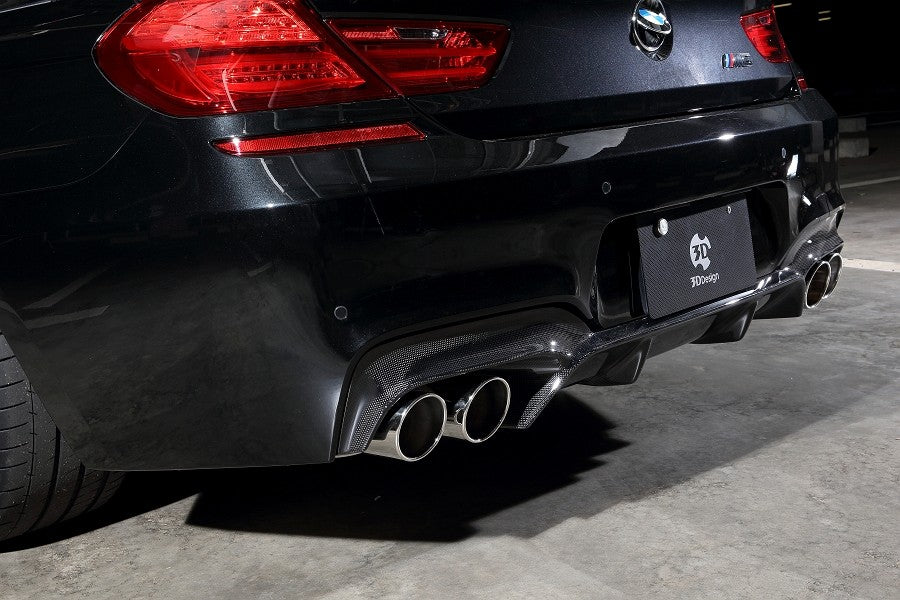 3DDesign Rear diffuser | BMW F06 F12 F13 M6
Car Model:
F06, F12, F13 M-sport M6
Design:
Rear diffuser
Part No.:
3108-20631
Materials

:
Carbon

Finishing:
Carbon

About the product

At first glance it is apparent that the 3D aero kit is one with the spirit of the BMW F12 F13 and F06 M6. Every piece of the aero program pays particular attention to the unique body lines of the chassis. The dips, curves, and twists are continued through each and every piece. While taking a closer look at the 3ddesign front lip, it is easy to notice how the line of the lip meticulously follows the lines of the front bumper prior to dropping into a subtle 2-piece splitter. The 3ddesign trunk spoiler takes on a more aggressive approach by borrowing some inspiration from the Moto GP BMW F10 M5. One of the most impressive aspects of the entire kit is the 3DDesignrear diffuser. The rear diffuser is aggressive, but tasteful. As a substitute for the approach of adding massive fins, 3D Design opted for a 2 piece bolt on lower section that beautifully frames the exhaust tips. The kit is rounded out with a carbon fiber bolt on side-skirt.
About 3DDesign
3D Design was established in 1998 by a team with deep knowledge, expertise and proven technology through participation in various races of different categories, both in the domestic and international circuits.
3D Design's philosophy to strive for perfection and accuracy with less focus on time and cost of development is reflected in our quest to build the most attractive and efficient tuning components as well as dress-up parts for the niche BMW performance market.
Worldwide shipping, shipping price is automatically calculated in the check-out