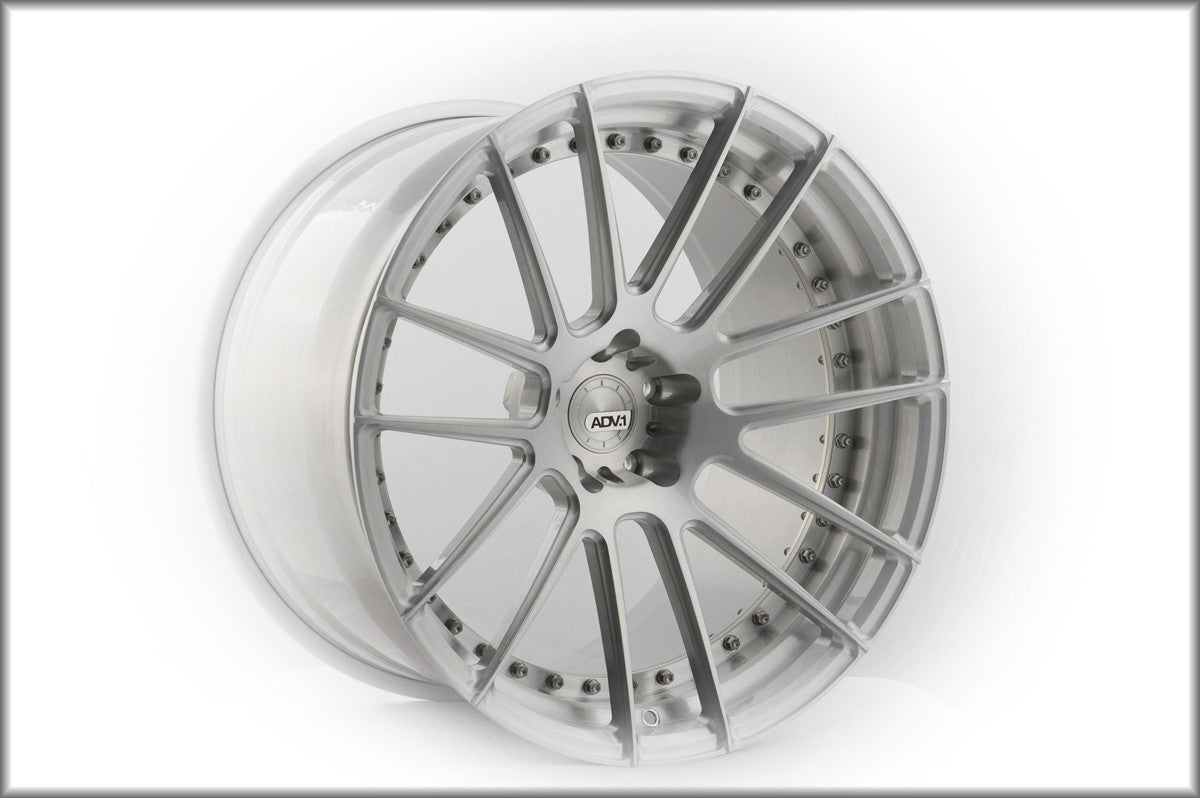 ADV1 wheels ADV7.0 M.V2 SL
Pricing from: Contact us for pricing
Profiles: Flat / Mid / Deep Concave
Diameters: 18.0 - 22.0 inch
Widths: 4.0 - 13.5 inch / in 0.5" increments
Construction: 2 piece: Forged "Mono-center" + standard reverse 3 piece step lip inner
SL Update: Yes
Inner/Outer: Step lip inner (standard reverse / rolled w/ 40 hole assembly flange)
Avg weight: 18.0-25.0 lbs.
Applications: All vehicles / pcd's / offset combinations + centerlock applications
Assembly bolts: Optional hidden or visible hardware / standard or titanium upgrade
Backpad: Standard weight reduction pocketing
Intended use: High performance street & / or Track use
For a detailed price quote, or any advice on finish and fitment, Please Contact us.
ADV1 Wheels ADV7.0 MV2 SL

The Adv.1 wheels MV2 SL configuration features a revolutionary 2 piece monoblock construction, developed and engineered by ADV.1 wheels. The primary focus of the M.V2 SL wheels is to provide a lightweight, forged aluminum, individually engineered to order alternative to the forged monoblock. The M.V2 SL provides an entirely new look combining 3 piece versatility with 1-piece performance and ride quality. These wheels are intended for street and race use and are available for all vehicles. Contact us directly for advice, a complete wheel and tyre package, or if you require a special color.
the M.V2 SL option is similar to our previous monoblock SL option only better. Comparitavely, the M.V2 SL Feature provides a wheel as much as 30% lighter than it's equivelant monoblock option in the same size, offset, style and vehicle application.
Performance:
Intended primarily to provide a wheel with OEM ride qualities and compatibility, improved performance and a more aggressive fitment and overall look. These wheels combine the advantages of all of the ADV.1 forged 1 piece & multi piece forged wheels in one forging configuration.. Upgradable weight reduction options and race specific engineering options are all applicable.
Options:
M.V2 SL orders are individually engineered and machined to order and can be fully customized with specific fitment specification, custom finishing, race lightening, visible or hidden hardware and more.
Size Range:
Available in sizes from 18.0" to 22,0" diameters and 7,0" to 13" widths in all ADV.1 styles. Any offset or profile from flat to extremely deep.
Worldwide shipping, shipping price is automatically calculated in the check-out