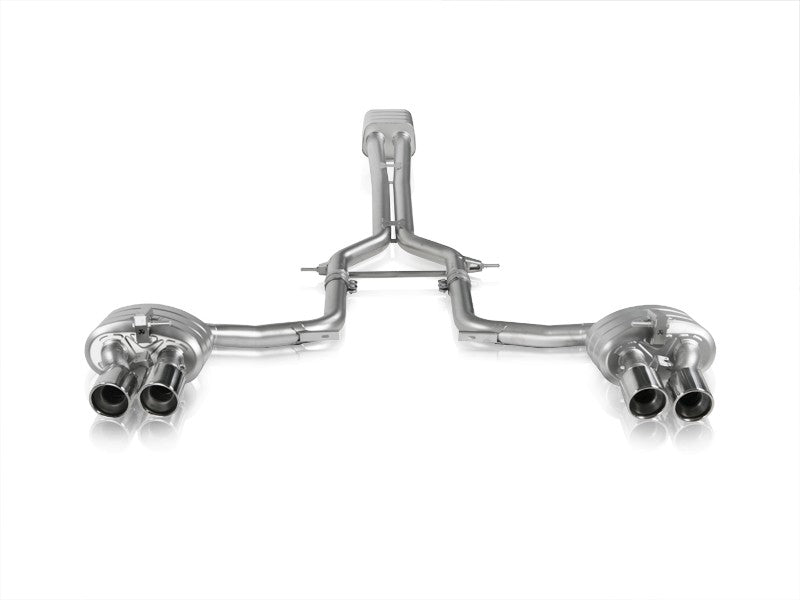 Akrapovic Evolution exhaust system | Porsche 971 Panamera Turbo S E-Hybrid
Add Middle Valve Actuator Kit:
Add Middle Valve Actuator Kit
Porsche Panamera 971 Turbo S E-hybrid | Akrapovic evolution exhaust
We made no compromises when developing the new Evolution exhaust system for this four-door sporty limousine. This new aftermarket system is noticeably louder, with a deep and very aggressive sound, to fully express the racing-oriented nature of this exhaust, which is made from our proprietary titanium alloy. This complete beautifully crafted titanium system consists of four round tail pipes, computer-optimized asymmetrical mufflers with a "dual mode" exhaust valve system, and a link pipe with a resonator to eliminate any chance of in-cabin droning. When using the Akrapovič installation kit, the exhaust valves of the "dual mode" system can be fixed in open or closed position. To experience the full potential of the Evolution exhaust system, we developed an optional wireless control kit. With a simple press of a button, the driver can close or open the flaps to choose between a loud racy sound or a quieter note for long-distance driving. When the valves are open the gas flow bypasses the mufflers.
Performance
This Evolution system not only transforms the Panamera's nature with a racing look and especially its sound, but also adds more power and torque, improves power distribution, and also helps reduce weight. The Evolution system is perfect and has a leak-free fit.
Because it is ECE type approved with no need to remap the ECU or add any other parts, it is just a simple plug-and-play installation. The exquisite Akrapovič Evolution Line (Titanium) exhaust system adds performance and style, along with an amazing soundtrack.
For vehicles with the base (non sport) Porsche exhaust system, which is then replaced by the Akrapovič Evolution Line system, the Middle Valve Actuator Kit is a mandatory upgrade.
This product will not fit on Executive models.
Worldwide shipping, shipping price is automatically calculated in the check-out