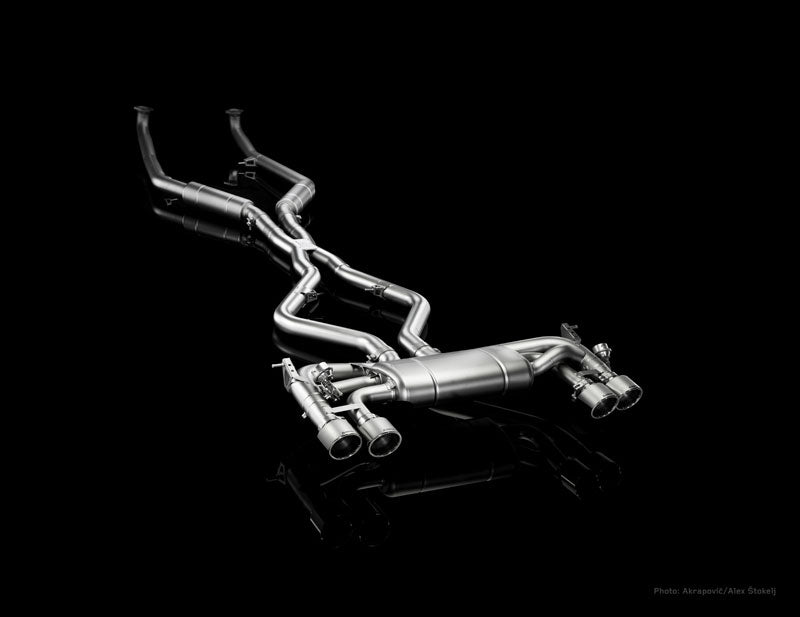 Akrapovic Evolution exhaust system // BMW E71 X6M
A twin turbo, 4.4 liter, 555 horsepower SUV? Only from the M division of BMW could a beast such as this be set loose on the world. Akrapovič is proud to have designed an exhaust system that unleashes the typical V8 roar from the engine of this technically advanced and premium BMW.
Performance
We have constructed a complete "catalyst back" exhaust system manufactured entirely from our proprietary titanium alloy, which introduces enhancements to the exhaust design not found in the stock system. One of the most important changes is the incorporation of an X-pipe in the system. The inclusion of an X-pipe increases low to mid-range power while at the same time producing a deeper exhaust note that the original system lacks. Additionally, a pair of resonators are added to eliminate any chance of in-cabin droning. The mounting flanges are made of cast titanium from our in-house foundry and ensure a perfect, leak-free fit.
Moving to the muffler section of our system, we have retained the "dualmode" exhaust flap control from the original system. This allows the vehicle to have a more civilized, but deeper than stock sound at low speed. However, at higher RPM (or when selecting the "S" mode on the gearshift) the muffler is bypassed, creating a deep and sporty sound much more in keeping with the personality of the car.
Two exhaust tail pipe options are available; both are 100 mm in diameter. The first is made completely from titanium while the other is crafted from a carbon fiber/titanium composite. The carbon fiber version was developed on the BMW X6 M MotoGP Safety Car, which is driven at sustained high speed, to guarantee uncompromised durability.
Performance has not been left out of the design. The system dramatically reduces backpressure and is an excellent starting point for further engine tuning or turbo modifications. Even when installed on an otherwise stock vehicle a gain of 11 horsepower and 15 Nm / 11 lbs-ft of torque are achieved. Furthermore, a weight reduction of 23 kg / 50 lbs. is realized. The OEM catalysts are retained, so no reflashing of the ECU is required and the check engine light will not be triggered.
Hard facts:
Plus 11 HP (at 6,200 rpm)
Plus 15 Nm / 11 lbs-ft of torque (at 2,270 rpm)
23 kg / 50 lbs. lighter than stock
The package contains:
- Titanium resonators,
- titanium mufflers,
- exhaust valves
- carbon or titanium tailpipes
- fitting material
Worldwide shipping, shipping price is automatically calculated in the check-out