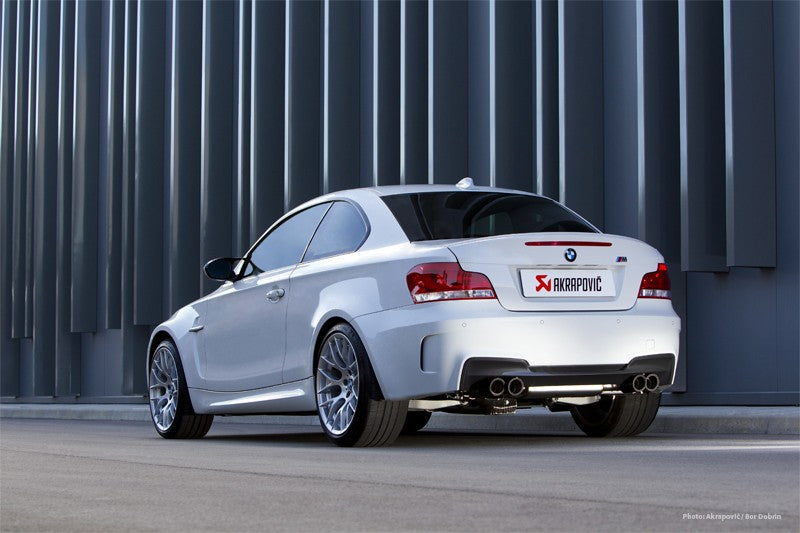 Akrapovic Slip-On exhaust system // BMW 1M
In a way, the BMW 1 Series M Coupé is a throwback to the past. This twin turbo, 335+ horsepower coupe reminds many BMW diehards of the early M cars, in which light weight, small size, and agile handling were the only things that counted. Do we dare to improve on such a focused, purpose-built machine? Yes, we do.
At Akrapovič we've developed several different configurations to suit all tuning applications. The basis of all the configurations is our Titanium* Slip-On system. Utilizing a single muffler arrangement, the Slip-On is designed to be modular. In its basic mode, all exhaust gases flow through the main body of the muffler, giving you a deeper rumble of an exhaust note compared to stock without any drone. In Europe this system meets TÜV standards for noise. However, the muffler system is built in such a way that by replacing a blocking plate with our Wireless Kit valve system the driver is able to noticeably increase the volume of the exhaust at the press of a button. Once activated, the majority of the exhaust gases route through the muffler bypass outlets.
To cap off any of the systems, we offer either carbon fiber or titanium exhaust tips. Both versions feature a spherical mounting system to allow for perfect alignment of all four tips. The carbon fiber tips are constructed at our in-house production facility using "prepreg" cloth that is vacuum-bagged and autoclaved. The result is an attractive yet extremely durable part.
Hard facts
Plus 5 HP (at 5,670 rpm)
Plus 5 Nm / 4 lbs-ft of torque (at 3,100 rpm)
1 kg / 3 lbs. lighter than stock
The package contains:
- titanium mufflers,
- titanium or carbon tailpipes,
- fitting material.
Worldwide shipping, shipping price is automatically calculated in the check-out