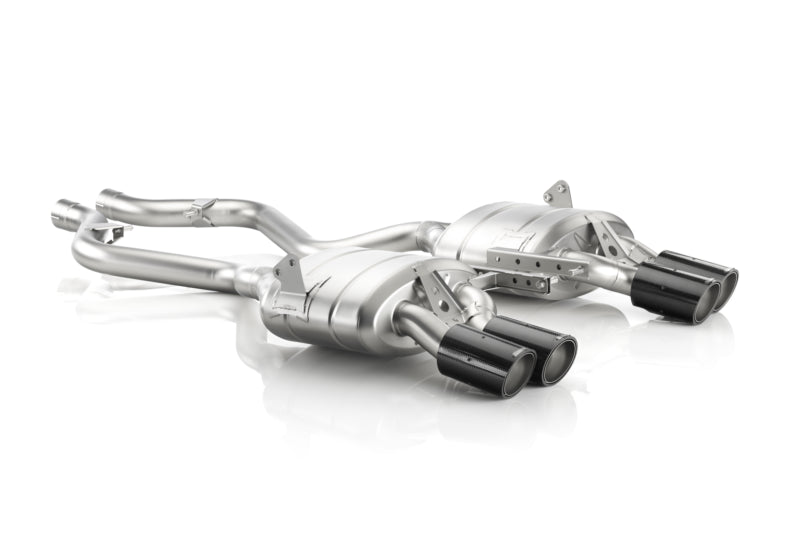 Akrapovic Slip-On exhaust system // BMW M3 E90, E92, E93
The Akrapovič aftermarket Slip-On exhaust system for BMW M3 consists of completely newly developed and split-end mufflers. This exhaust system, made fully from titanium, reduces the overall weight when compared to the stock system by about 14 kg/31 lbs.
Performance
The power increase is about 3 HP. The torque is nearly constant at 4 Nm/3 lbs-ft over the stock. That is the real joy of driving: high speed engine benefits in daily practice due to the torque increase. It improves the agility in the lower rpm-range. Also, the engine is stronger in the higher rpm-range and the elasticity is improved. The improvement of acoustics played an important role in the development. The Akrapovič exhaust system amplifies and rectifies the beautiful sound of the 8-cylinder motor, without appearing invasive or having disadvantages in the daily use. All M3 systems are available with either titanium or carbon fiber tail pipes.
Hard facts:
Plus 3 HP (at 7,610 rpm)
Plus 4 Nm/3 lbs-ft (at 5,930 rpm)
14 kg/31 lbs. lighter than stock
The package contains:
- titanium mufflers,
- carbon or titanium tailpipes
- fitting material
Worldwide shipping, shipping price is automatically calculated in the check-out