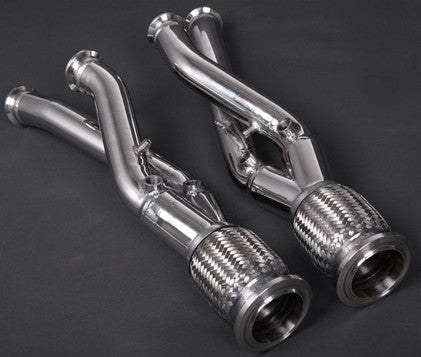 Capristo Cat delete pipes | Lamborghini aventador LP700
Make: Lamborghini
Model: Aventador
Submodel: LP700
Material: 309 grade stainless steel
Valve controlled: NA
Performance gain: -
Tip style: Round
Lamborghini Aventador Capristo cat delete pipes
Cat delete pipes for the Aventador LP700. They replace the OEM catalytic converters.

We expressly point out that this exhaust part comes without the approval of the German TÜV authority. For this reason it is not allowed to use this exhaust on public roads in Germany and also partly not allowed in some other countries. Please observe the legal requirements in the respective country.
About Capristo
CAPRISTO® began two decades ago as a manufacturer of exhaust systems for Ferrari cars and have evolved into the premier manufacturer of today's high performance vehicles for the street and racing.

CAPRISTO® is committed to providing world-class exhaust products which surpass the expectations of its customers, and its German facility is a complete with a state-of-the art test and development center where CAPRISTO is continually improving its manufacturing efficiency and standards.

CAPRISTO has pioneered a variety of improvements in the design of performance exhaust systems. Antonio Capristo, founder and CEO of CAPRISTO® Exhausts, currently holds several International patents for innovative exhaust system technologies. Every CAPRISTO® system is made from 309 grade stainless steel (close to Inconel - used in F1 Racing) designed for very high temperature applications (>600*C), employing mandrel-bent tubing, all hand-welded construction, and each and every system is designed with the utmost care and professionalism.

The performance and sound advantages of a CAPRISTO are widely recognized by Sports and Exotic car owners. CAPRISTO® is at the forefront of the movement toward responsible racing with our full line of patented, award and race-winning racing mufflers that not only maintain enhance the sound of sports cars, but also add power and torque.


Worldwide shipping, shipping price is automatically calculated in the check-out