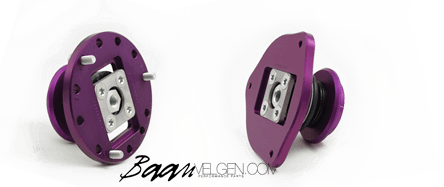 KW Top Mounts Camber plates Adjustable
KW TOP MOUNTS | CAMBER PLATES
KW suspension Automotive can now offer this superb range of adjustable top mounts. KW Adjustable top mounts can be fitted whether you are using KW Automotive suspension kits or for your OEM suspension. The KW top mounts allow you to adjust the camber and castor angles on your vehicle (most applications) keeping the suspension geometry optimised for supreme handling
Camber Adjustment
The wider range of camber adjustment allows the reduction of excessive negative camber caused by lowering. That will improve tire wear. Camber may be adjusted to a much more negative setting for more front grip when cornering.

Caster Adjustment
KW Camber Plates provide adjustment of caster, which is otherwise not adjustable. Increasing the amount of positive caster improves straight-line stability. Increasing the amount of caster also helps increase front grip during cornering because additional cater causes an increase in negative camber on the outside tire when the car is steered into a corner. The increased negative camber increases cornering grip. The increase in negative camber is only present while the tire is steered, and therefore does not harm tire wear.
Prices shown are 'per pair' of top mounts.
Worldwide shipping, shipping price is automatically calculated in the check-out