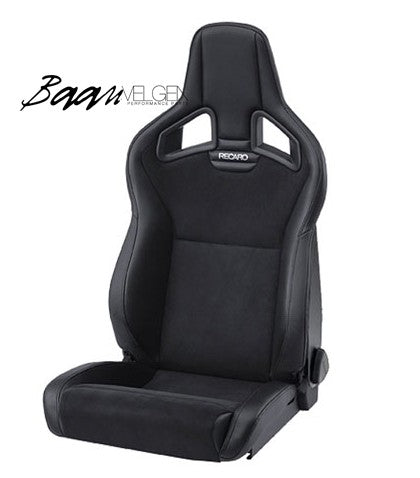 Recaro Cross Sportster CS seat
Recaro Sportster CS sport seat

The Recaro Sportster CS seat is the perfect blend of sport hold and easy access. Light weight and space-saving construction made from innovative composite materials. The flat seat cushion and less defined thigh bolsters makes it easy to get in and out of high vehicles, while still providing stable side support.
The hybrid design incorporates the strength of a metal seat base with a fiber reinforced polymer based formed backrest. The combination creates a sleek, distinct, eye-catching look. The integrated headrest and bolstering are reminiscent of racing seats while the comfort and ergonomic qualities are evocative of the world's best sport luxury automobiles.
Design: The Recaro Sporster CS seat is modeled after the design aesthetics of world-class racing seats, but it's all street legal. The integrated headrest with belt pass-throughs, aggressively bolstered shoulder, back and thigh areas and sleek cover designs make Speed the ultimate in a "street legal" performance seat.
Ergonomics: Each Recaro seat is designed to support the natural S curve of the spine. The human body isn't designed for long periods of sitting. Recaro seats are designed to align the spinal cord in its most natural and healthy position. Your back muscles will actually become more relaxed the longer you sit in the seat.
Ultra Thin Reinforced Fiber Backrest: Sleek molded backrest offers superior ergonomics, unique styling and interior space savings. Select the optional carbon fiber shell for the ultimate Sportster CS seat.
Integrated Lumbar Support: Proper lumbar support is an integral part of the comfort of an automotive seat. Recaro's proprietary lumbar support technology provides superior comfort and support.
Bearing Mounted Seat Cushion: Built-in shock absorbing system ads unbelievable comfort.
Shoulder, Back and Thigh Bolsters: Driving in a Recaro seat isn't all about correct sitting, it's about performance too. The pronounced shoulder, back and thigh bolsters will keep you firmly in place under the most aggressive driving situations.
Adjustable Backrest: Easy manual dial mechanism moves the backrest into the correct and comfortable driving position.
Integrated Head Rest: Integrated headrest is designed with belt pass-throughs for 4 point belt harnesses for a sport appearance.
Built-in Adaptor: Seat adaptors are built into the seat to giving the seat an authentic racing seat look.
Seat Back Release: The seat back release is integrated into the belt pass-through area for a clean look. Moves the backrest forward for easy access to the rear seat compartment.
High Quality Foam Padding: The entire seat is lined with thick, dense high quality foam, adding to seats sport feel and ensuring long lasting support.
Upholstery: Recaro chooses the best materials for its covers and then sews them with precision, assuring the seat will look great for years.
Specifications
- Backrest Height: 918 mm (36.1 inches)
- Shoulder Width: 517 mm (20.4 inches)
- Seat Width: 511 mm (20.1 inches)
- Seat Cushion Depth: 483 mm (19.0 inches)
- Gross Weight: 33.1 lbs.
- Belt: 3-point
Worldwide shipping, shipping price is automatically calculated in the check-out