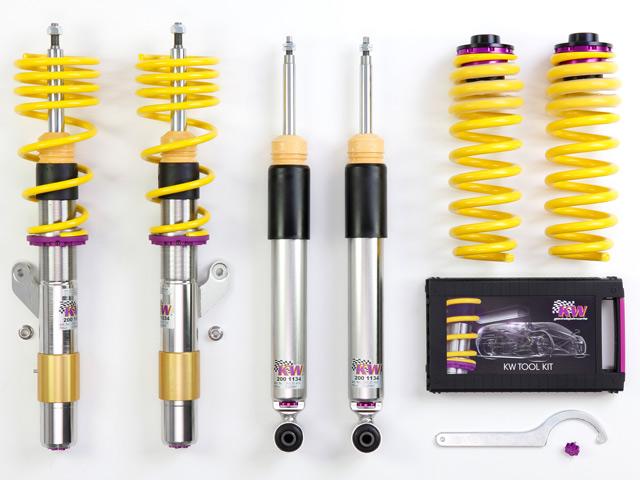 KW coilover kit DDC ECU
KW DDC – Performance for racetrack & road

The KW DDC (Dynamic Damping Control) coilover kit with ECU (Electronic Control Unit) was developed for individual lowering and installation of an electronic damping control system. The scope of delivery contains a KW inox-line coilover kit with electronically controlled dampers, a high-performance control unit, the car specific cable set with control switch and a detailed manual for an easy installation. The KW DDC coilover kit has three car specific developed damper settings. By the push of a button the driver can choose between the sport basic setup, a very sporty and performance-oriented Sport+ setup and the comfort mode for uneven/ poor road surfaces. The height adjustment of KW coilover kits also allow an individual lowering within the TÜV-tested adjustment range.
Create your own setup
ADVANCED
In the ADVANCED menu the value of the damper strength is indicated in real-time. The infinitely variable damper setting occurs separately in front axle and rear axle in (+/-1%) or (+/-10%) in single steps. As soon as the individual set-up is configured within the KW safety regulations, it will be passed to the suspension control unit with the Transmit-button and is saved. With the activation of the feature "Constantly update" the respective changes are be transfered within milliseconds to the dampers and you feel the differences immediately.
PERSONAL
In the PERSONAL menu you can save up to five individual setups for the dampers that additionally can be shared via e-mail.
SETTINGS
In the SETTINGS menu you change the look of the App. You can choose between different backgrounds and activate the logo.
Worldwide shipping, shipping price is automatically calculated in the check-out