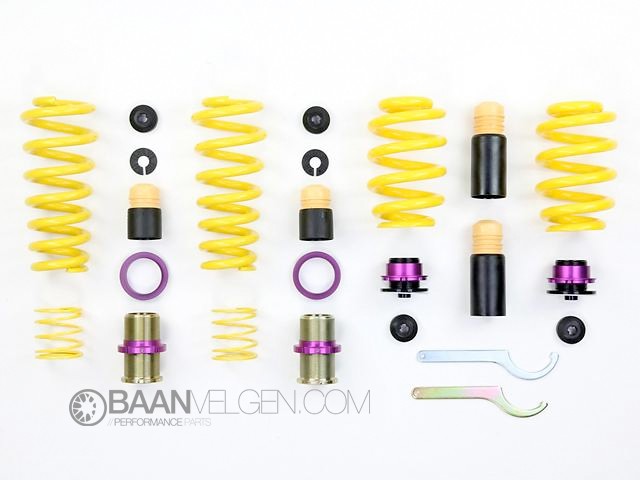 KW Coilover sleeve spring kit for BMW G80 M3 and BMW G82 M4
KW Coilover sleeve spring kit for BMW F80 M3 and BMW F82 M4

The KW Coilover spring sleeve kit for BMW M3/M4 is used for lowering the vehicle in combination with the serial dampers and EDC, even when electronic damper control is installed. This lowering solution from KW Suspension optimises the dynamic performance and the steering behaviour without the electronic damper control deactivated. For this solution vehicle specific adjustable spring seats with adjusted KW lowering springs and the matching elastomer as well as the dust cover system will be used.
With conventional lowering springs you have to decide on the lowering from the beginning, but not with the KW height adjustable spring kits. Depending on the vehicle specific application you can change the lowering within the adjustment range with the threaded spring perch when the springs are already installed. In this case for the BMW F80 M3 and BMW F82 M4 the KW height adjustable spring kit lowers the car in the range of 5-25 mm front and rear. You will not have any difficulties to adjust the lowering when changing your wheel/tire combination.
Adjustable lowering solution,
Individual height adjustability of the serial suspension kit
Serial suspension system
also with electronic damper control
stays active
Improved optic and vehicle dynamics
Optimal performance
Better steering behaviour
Interested in professional installation service, please feel free to contact us.
Worldwide shipping, shipping price is automatically calculated in the check-out