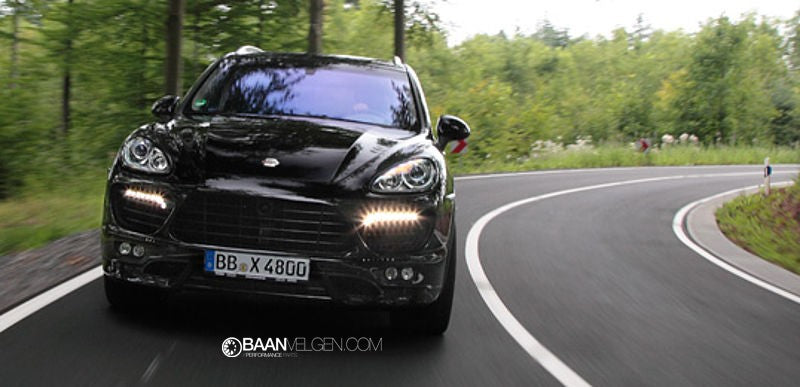 Techart Aerodynamic kit 1 for Porsche cayenne
Techart Aerodynamic kit 1 for Porsche Cayenne
PRODUCT DESCRIPTION

Exciting, sporty and markedly elegant - the contour of the three-piece front spoiler is a clear statement regarding the SUV's newly acquired TECHART gene and sets an attractive visual highlight. Integrated air ducts also ensure an optimized cooling of the brake system. The multifunctional daytime running light system, the TECHART lighting packages with LED technology or halogen headlights are available as an option for the Porsche Cayenne Turbo.

Fitting side skirt panels underline the elegant and sporty look of the SUV when viewed from the side. TECHART original equipment quality: only high-quality polyurethane RIM is used for all exterior components of the aerodynamic kit. The material ensures at the same time ease of painting, installation and maintenance, including trouble-free installation at every Porsche center and every authorized service center.
The elegant design of the aerodynamic kit can also be recognized here when viewing the rear end of the vehicle. Visually and technically, the TECHART roof spoiler and the TECHART rear apron with integrated diffuser and two subtle reflectors on the sides of the tailgate underline the SUV's driving dynamics. Discrete design highlight: the two pieces of trim lend the taillights of the Porsche Cayenne a dynamic look. Matched trimming and exterior styling packages in paint or carbon fibre allow for almost unlimited possibilities to realize personal style.
Techart
The all-new Aerodynamic Kit I for the Porsche Cayenne. For an individual touch, that lends the sporty SUV an elegant new look – with TECHART's typical and unmistakable design. The second level of individualization for the Porsche Cayenne in addition to the TECHART MAGNUM. Just as unique, just as sporty. With engine powerkits up to 660 hp and 950 Newtonmeters.

Inquire today!
Worldwide shipping, shipping price is automatically calculated in the check-out