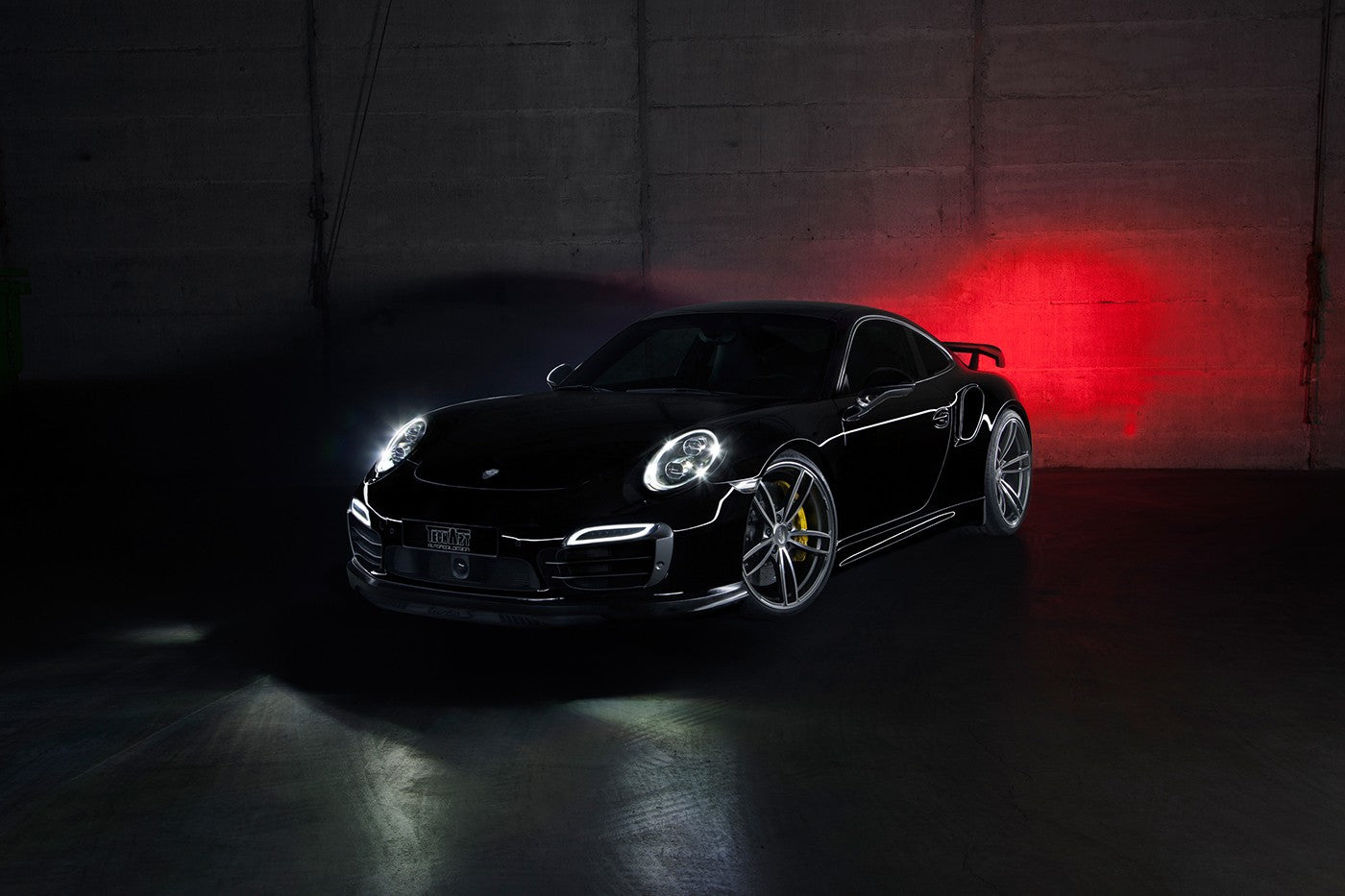 Techart Aerodynamic kit I for Porsche 911 carrera 991 Turbo / Turbo S
Techart Aerodynamic Kit I for Porsche 911 carrera 991 Turbo / Turbo S
PRODUCT DESCRIPTION

The TECHART Aerokit I underlines the sportive attitude of the 991 Turbo from every angle.
Typically TECHART, its subtle distinction is unmistakable. At the same time, it decently maintains the inimitable 911 design line.
The two-part TECHART Front Spoiler I features an integral splitter and blends perfectly into the surrounding shaping of the front apron. Its composition optically reduces the distance between the car and the tarmac, and it emphasizes self-confidence and strength.
Upright Aerowings in both front air intakes set another racy highlight, applying a new dynamic twin-duct design. Typical TECHART trims in body color upgrade the 911's headlights and side mirrors.
A clear statement at the rear end of the 911: the stationary TECHART Rear Spoiler II. For optimum air flow, it features a tearing edge under the wing profile, which incorporates the center mounted stop lamp.
The shaping of the rear spoiler interprets the 911's roof design line and, accompanied by the rear diffusor and the athletic side skirts, it perfects the sportive character of the TECHART Aerokit I.
Techart
Ideal. In the sense of technology, ideal is understood as the focus on the essential.
In the meaning of the arts, it is the objective of the sensual execution of esthetics
and beauty. And generally speaking, it is nothing less than the quest for perfection.
At TECHART, we focus on the essential since 25 years: your individual conception
of perfect individualization for your Porsche. Your own definition of ideal.
How could you come closer to perfection than through the ability to decide yourself?
Ideal by definition. TECHART for your Porsche 911.
Worldwide shipping, shipping price is automatically calculated in the check-out