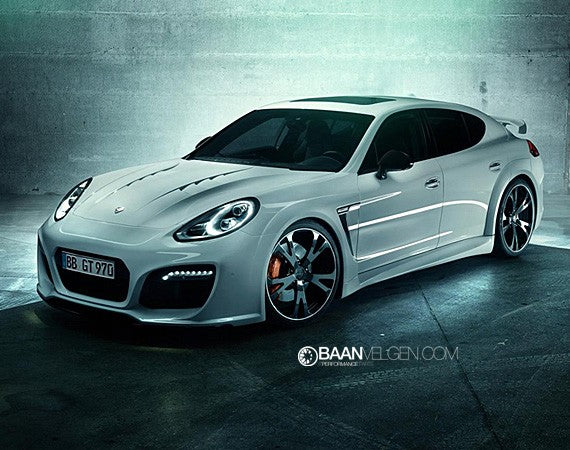 Techart GrandGT for Porsche panamera
Techart GrandGT for Porsche Panamera
PRODUCT DESCRIPTION

The TECHART GrandGT Program favors a spectacular performance. The TECHART-typical exterior design catches the eye of onlookers immediately. The powerful front bumper with integrated splitter and large ventilation intakes, for an improved supply of fresh air to the intercooler and an optimum cooling of the brake system, flawlessly underlines the dynamic contours. TECHART-typical: the sporty four-seater's suitability for everyday use. The multifunctional daytime running lights that are integrated in the front bumper give the Panamera not only a distinctive appearance. It combines daytime running lights, position lights, parking lights and turn signals as LED system unit in a common housing and integrates seamlessly in the design of the Panamera's front. An additional design highlight is the TECHART Aero engine hood that is constructed of high-quality carbon fibers, with integrated air outlets for an optimized regulation of the heat balance in the engine compartment and which impressively completes the GrandGT program for the Panamera's front end.

Powerful side skirts and flared fenders increase the width of the Panamera by 21mm on each side of the front axle compared to the standard vehicle and 42mm on each side of the rear axle, resulting in a wider track and thus improved cornering abilities. Typical TECHART: attention to detail. Headlight trims or trim slats for the side air outlets made of high-quality polyurethane RIM set elegant highlights on the side of the vehicle in individual colour combinations and emphasize the dynamic appearance of the GrandGT.

The design of the rear end incorporates the front's design and emphasizes the unique character of the GrandGT – sporty, confident and masculine. In combination with the TECHART roof spoiler, the much larger rear spoiler compared to the first Panamera Program, results in even less lift at the rear axle and greater driving stability and active safety – even at high speed. An additional GrandGT design feature: the distinctive rear apron with integrated air openings and matching diffuser. The oval dual tail pipes of TECHART's sporty exhaust system, which are fully integrated in the vehicle's rear end, optimally complete the exterior tuning package. As an alternative, a sporty exhaust system with valve control can be selected – for audible more sportiness.
Techart
GT – uniquely sporty, which is embodied by the program not only in design. The GrandGT internalizes it as well. The exterior package consists of a fiber-reinforced composite based on carbon, glass-fiber-reinforced plastic and polyurethane RIM components. These materials are primarily used in motor sports and are distinguished by their extraordinary product characteristics. The exterior components of the TECHART GrandGT program are remarkable, among other things, thanks to an impressive dimensional stability, great strength and low intrinsic weight.

Inquire today!
Worldwide shipping, shipping price is automatically calculated in the check-out