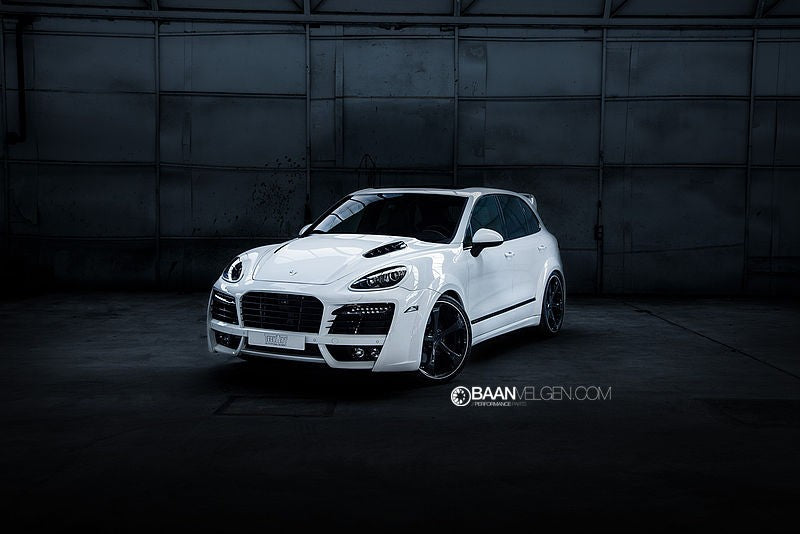 Techart MAGNUM for Porsche Cayenne
Techart MAGNUM for Porsche Cayenne
PRODUCT DESCRIPTION

he new multi-functional TECHART day driving light system is more than just an ambitious design feature. It also makes a significant contribution to improving safety by day and night.

The LED system unit combines day driving lighting, side lighting, parking lighting and indicator lights in one unit which blends in perfectly with the design of the front of the vehicle. The strength of the lights automatically adjusts depending on the day light setting selected. The day driving light is also dimmed when the vehicle is turning to ensure that the indicator lights stand out.
MAGNUM – a confident and strong performance
The TECHART individualization program does not leave any doubts about the uncompromising performance of the MAGNUM. The typical MAGNUM front apron with two large air intakes, integrated TECHART daytime running lights as well as an additional xenon double headlamp unit and air ducts - which supply the front brakes with optimal fresh air - let the viewer feel the power and agility of the MAGNUM in an instant. The distinctive TECHART Aero engine hood made of carbon fibre with integrated air outlets ensures proper engine heat dissipation and completes the consistent design of the new MAGNUM front.

Taking a glance along the flank of the SUV, side skirts and elegant trims on all four doors seamlessly connect the distinctive outline of the front and rear fenders. The body, 92 millimetres wider than standard, represents the pure force of the MAGNUM.
Techart
TECHART MAGNUM – with over 1,000 sold, the distinctive individualization program for the Porsche Cayenne wrote a unique success story. Now TECHART gave the current model a unique and powerful appearance – dynamic, confident and strong.
An open secret
It is said, there is a secret around every success. At TECHART it is an open one: highest standards in technology, quality and design are the basis for success. According to TECHART's core philosophy: original equipment quality. Made entirely from high quality Polyurethan-RIM the new TECHART MAGNUM body kit owns an impressive appearance and emphasizes the dynamic basic form of the Cayenne.
Worldwide shipping, shipping price is automatically calculated in the check-out