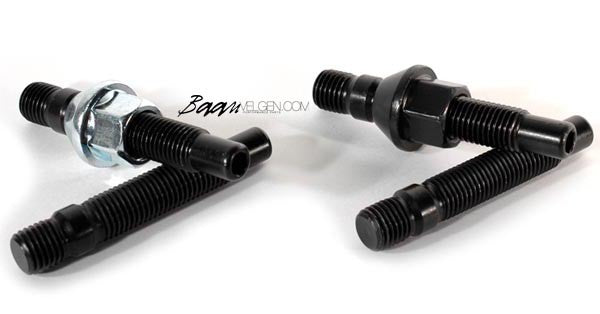 Wheel Stud 14x1.25 90mm - black
Stud & Lug nut conversion kits BMW
For non race cars, stud conversions make wheel install and removal much easier as you do not have to line up the holes in your wheels, spacers, and hubs before hand threading in a single lug bolt. Simply slide the wheel onto the studs, and let go. Your wheel will no longer spin around the hub, but will instead be lined up correctly.
Extended length studs like these allow for a range of spacers to be used without any additional modification. You can easily use 3, 5, 10, 12mm or no spacer at all. When using lug bolts with spacers you are forced to purchase a different length lug for each width spacer. Why own a bucket full of lugs when a single set of studs can do it all?
By remaining installed, the studs put less ware on the threads of your hubs. They guarantee there is enough thread engagement, as you can see how many threads were engaged during install.
Wheel studs replace your OEM lug bolts by simply threading into your cars hub. Once installed they do not need to be removed when changing or removing wheels. Only the lug bolts are removed similar to many domestic vehicles.
APEX Wheel studs are 10.9 grade steel, and produced in Europe by a TUV approved OEM supplier
75mm length allows for the use of spacers up to 12mm in thickness, or no spacer at all, without making any changes
The studs have a bulletnose tip that makes lug nut install and removal easy, and prevents cross threading
The head has an integrated 5.5mm hex to make initial installation a breeze
The hardened studs are black zinc plated, while the nuts are available in both black and silver zinc plating
Studs and nuts are 12x1.5 or 14x 1.25 thread depending on your vehicle with a 60 degree taper identical to OEM BMW hardware.
Worldwide shipping, shipping price is automatically calculated in the check-out