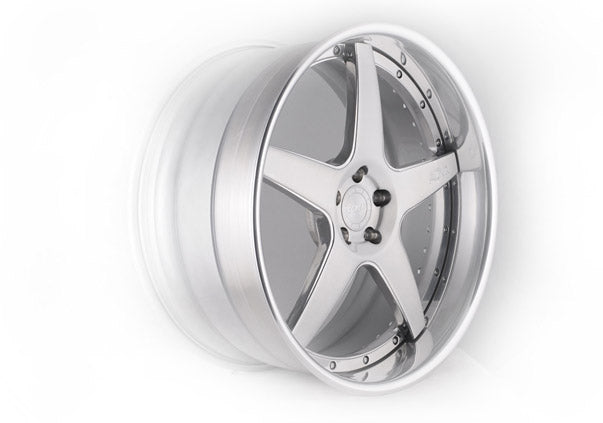 ADV1 wheels ADV5SF S-Function
Pricing from: Contact us for pricing
Profiles: Pre-Lathed TF / SF standardized flat profile only
Diameters: 17.0 - 22.0 inch + 24 inch
Widths: 4.0 - 14.5+ inch / in 0.5" increments
Construction: 3 piece: Forged
SL Update: Not Applicable
Inner/Outer: Step lip inner + flat lip outer
Avg weight: 24.0-28.0 lbs. TF Series / 25.0-31.0 lbs. SF Series
Applications: All vehicles / pcd's / offset combinations + centerlock applications
Assembly bolts: Optional hidden or visible standard hardware / titanium upgrade not applicable
Backpad: Optional weight reduction pocketing not applicable
Intended use: High performance street & / or Track use TF Series / Street use SF Series
For a detailed price quote, or any advice on finish and fitment, Please Contact us.
ADV1 Wheels ADV5 SF S-Function

The ADV.1 S-Function (SF) series configurations. Designed & engineered around their goal with this series to provide a wheel with the same quality, materials, assembly and reliability as all of the ADV1 wheels, however at a lower, entry level price point. Although by no means are they inexpensive, they are however very competitively priced for a forged 3 piece wheel of this quality. The ADV.1 entry level option is comparable in quality and style to other brands flagship offerings, while maintaining a competitive price point & ADV.1's strict quality standards and build quality.
Performance:
Intended primarily to provide a wheel with OEM ride qualities and compatibility, improved performance and a more aggressive fitment. These wheels are focused on the performance oriented genre primarily for street use and non professional track duty.

Options:
S-function orders are individually engineered and machined to order and can be fully customized with specific fitment specification, custom finishing, race lightening, visible or hidden hardware and more.
Size Range:
Available in sizes from 17.0" to 22,0" diameters and 4,0" to 15" widths in all ADV.1 styles.

Worldwide shipping, shipping price is automatically calculated in the check-out