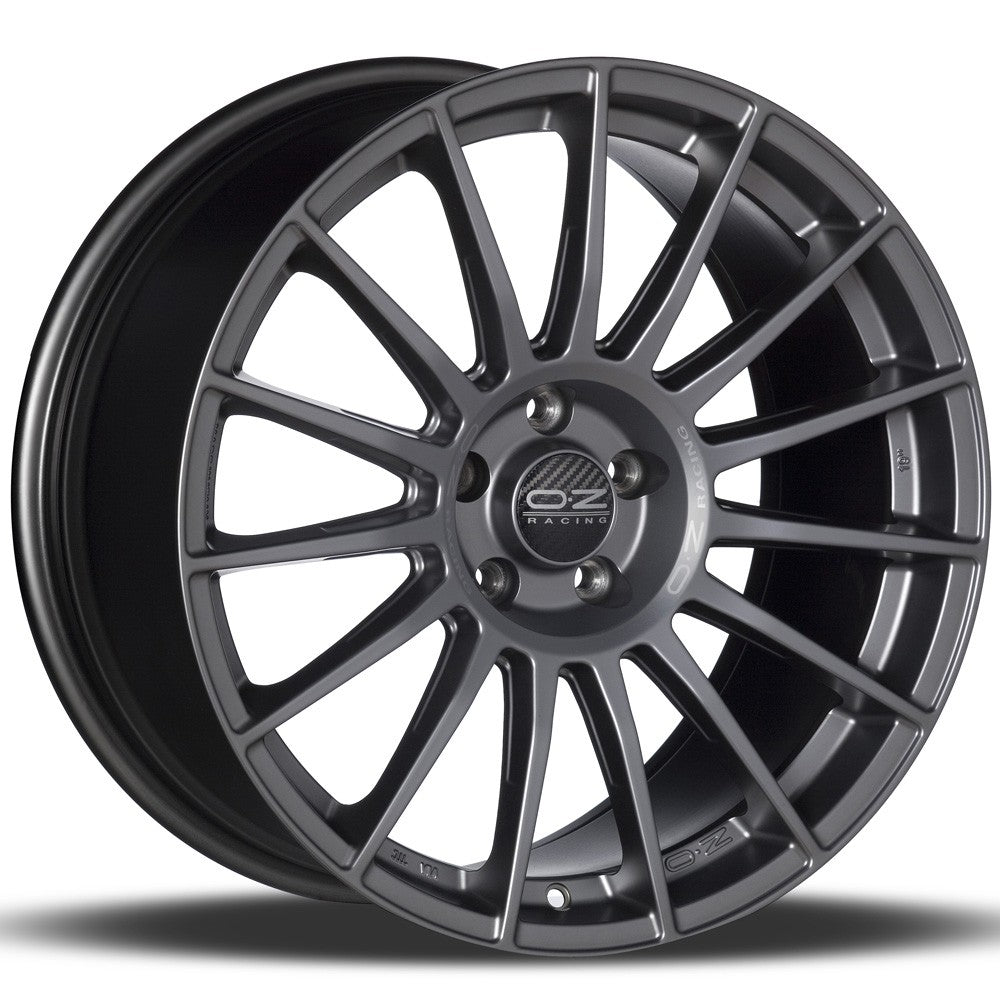 Superturismo LM
Model: Monobloc wheel
Design: Multi-spoke design
Hubcap: Black carbon fibre
Finishing: Matt Race Silver + Black Lettering
Dimensions: 18" - 19"
Production process: Low Pressure Casting Process + Heat Treatment
Materials: Al Si 7 Mg
About OZ Racing wheels
Since creating its first wheels in 1971, O.Z. Racing has established itself as a leader in the world's light alloy wheel industry.
O.Z. Racing produces standard equipment wheels for some of the most exclusive automobiles in the world including Ferrari, Lamborghini, Maserati, Aston Martin and Lotus. The Italian company also fills the needs of prestigious automotive equipment and bodywork companies like Bertone, Pininfarina, AMG, Hartge, Callaway, Schnitzer, Cizeta, Strosek and Giugiaro.
A look inside the high technology design and manufacturing facilities of Ruote O.Z. Racing s.p.a. in Italy will unveil what it takes to create an O.Z. Racing wheel that is a winner on the highway and the race track. Each stage of production focuses on creating a stronger, more beautiful wheel and this commitment has earned them more titles in motorsports than any other brand, including Indy 500/IRL, LeMans Series and Formula 1 Grand Prix wins as well as World Rally Championships and more.

O.Z. Racing never compromises on quality and complies with all official regulations of their client countries, including the stringent rules of T.U.V., the German control office. O.Z. Racing constantly submits their wheels to multiple comprehensive testing to measure road stress. And to detect minute flaws, wheels are put under pressure in a specially designed water tank and scanned for hidden flaws by X-ray. Further examination is done by computer and electron microscopes. Finally, an anti-corrosion treatment is given, followed by a protective lacquer coating and final cleaning.
A Lap on the Nurburgring
O.Z.'s pursuit of excellence is not limited to advanced manufacturing processes; every O.Z. wheel design is taken for simulated laps on the famous Nurburgring circuit.
This is done with a biaxial test machine. The test simulation standard is guaranteed via a license released by the German research institute LBF Fraunhofer and is the most complete and the closest simulation of the harshest conditions wheels may experience.
The machine simulates the radial forces, the axial forces, the accelerations, the decelerations and the road surface variations that the wheels would experience on the Nurburgring circuit for 22,000 miles.
Even if not necessary for homologation purposes, O.Z. uses the experience acquired through the daily use of this machine to develop and further improve its wheels
O.Z. Racing wheels — the combination of elegant design, the latest manufacturing technology and scientific precision creating a winning harmony between the beauty of form and the quality of function that is the trademark of O.Z. Racing.
Worldwide shipping, shipping price is automatically calculated in the check-out